On the chilly east coast mornings ever-present during the holiday season in Maryland towns like Gaithersburg or Rockville, why not invite your company to enjoy a nice, hot breakfast with Mr. Omelette? Our catering services offer you the very best in an enjoyable, stress-free, and affordable corporate brunch or breakfast party.
We take care of everything from the moment we arrive. You won't have to lift a finger during the event. You can sit back and enjoy yourself while our staff oversees the processes of setting up tables, serving, entertaining, and cleaning up afterwards. We believe that you should be able to thoroughly enjoy yourself at your own party, so we make sure you won't have a thing to worry about. You won't have to do anything to ensure the food and service portion of your party is a success; we'll take care of it all.
Entertaining and Delicious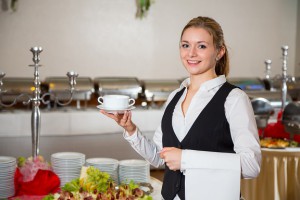 We often receive compliments on our entertaining catering services. Your guests can enjoy watching us make the food right in front of them. And for an extra entertaining element, all of our food is displayed in beautiful and entertaining arrangements to meet the theme of the party.
As for the delicious foods you can enjoy, our omelette selections are vast and will fit any taste. We also provide an assortment of breads, pastries, and beverages as well as offering a great Espresso Cappuccino Bar or Smoothie Station to fit the tastes of every guest.
Don't worry about this party breaking the bank either. We offer affordable rates and very simple payment processes. For specifics, view our website or call us at any time to discuss rates and payment options.
Party Rental Services