On a chilly December day in Maryland, there's no better way to warm up your event than with a hot drinks bar, and Mr. Omelette has egg-sactly what you're looking for. With Mr. Omelette's Espresso/Cappuccino Bar, you get the same value, reliability, and service as you do with any of our other quality catering services. We have a wide array of hot drinks and enhancements, so we've got something for everyone.
Espresso Drinks and Coffee
When we set up our hot drinks bar at your event, you get a full line of espresso drinks. We've got it all, from espresso shots to Caffé Americano. We use freshly ground Lavazza espresso beans to provide each drink with full, rich taste without the bitterness. Lavazza beans offer great aroma, flavor, and a thick compact crema. Your guests can also get freshly brewed regular and decafféinated Colombian coffee. We use gourmet syrups to flavor our beverages, and your guests have six different flavors to choose from.
Teas & Other Beverages
Not a coffee drinker? Not a problem! Your guests can select from six different teas presented in a fine leather tea book with descriptions of each tea. Don't like tea either? Don't worry! We offer tiger spice chai and hot chocolate as well. Like we said: something for everyone.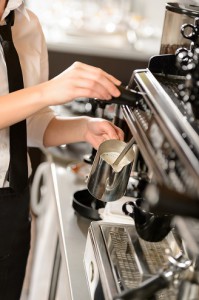 Enhancements
Don't forget the toppings and mix-ins! At no additional charge, we offer fresh whipped cream, Ghirardelli chocolate, cinnamon, nutmeg, milk, cream, and half & half. We also include sugar, brown sugar, and sugart in elegant, designer packets. We even include the cups, napkins, and straws!
For an additional charge, we will provide delectable treats to complement our hot drink choices. Offerings include biscotti, rugelach, mini french pastries, croissants, bagels, fresh baked cookies, mini muffins, and assorted gourmet bars.
We do all the work. All you have to do is provide us with a dedicated power source, water supply, and a six foot table with a tablecloth. Our baristas will take care of the rest. Check out our Espresso/Cappuccino Bar page for menu and pricing details. Or you can contact us today to get started!