With all the hustle and bustle of school, soccer practice, work, grocery runs, and all of your other daily activities, it may seem impossible to find time to spend one-on-one with each of your kids. Instead of trying to move around everything you normally do to make time, include your kids in your daily activities, such as cooking.
Cooking with your kids is a great way to build bonds and encourage healthy habits in your children. Preparing a simple, 30-minute meal with your kids is a great way to instill positive habits that will last them a lifetime.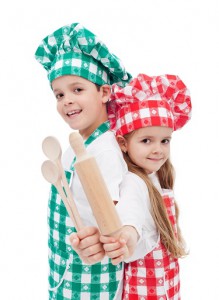 Encourages Healthy Foods
If you have a picky eater or two, inviting them to cook with you could be the key to resolving the issue. When kids help in the process of cooking, they feel the sense of accomplishment that comes from completing a great meal, and they can't wait to try it. New foods also seem much less scary to them when they see how the meal was prepared.
Builds Bonds
There isn't always a lot of time to sit down and chat with your kids when you all have so much going on daily. Cooking with your kids gives you the time to talk about school, friends, sports, and other activities. It also gives you an opportunity to discuss problems they may be facing and come up with solutions. You're building a bond between you and your kids that will last a lifetime.
Less Eating Away from Home
Childhood obesity is one of the largest epidemics in America today, and a major reason for that is the fast food industry's dominance. Cooking with your kids ensures that they are eating more healthy meals at home rather than unhealthy foods elsewhere. You can do your part to protect your children from being another obesity statistic.
Kids Love Helping
You're probably well aware that your kids love to help, and if you take the opportunity to cook with them, they can help without being in the way. Depending on their age, you can give them simple jobs, like peeling potatoes or grating cheese, or more complex jobs like chopping vegetables. They will feel the confidence that comes with being a big kid doing an important job, and it will show in other aspects of their life.
Teaching That Lasts a Lifetime
Cooking is a great teacher for kids. They practice math as they accurately measure according to the recipe. You can also take opportunities to teach them about where food comes from or answer questions as they ask them. This one-on-one time is the perfect opportunity for kids to get the specialized attention and education that only their parents can provide. They'll love the extra time with you and won't forget the things you've taught them and the time you shared.