The holidays and food have and always will go hand-in-hand. As the old saying goes, "Families who cook together stay together," and as this article points out, when you spend time in the kitchen with your kids, they will experience a lifetime of benefits.
Combine those benefits with the togetherness of the holidays and observe how families can become even closer from the time spent in the kitchen over the holidays. Consider these ways to use both food and the holidays to bring your family closer together.
Thanksgiving
Ah, the holiday entirely devoted to food. Sure, you can spend quality time together eating the food, but much more memories will be made if you spend time with your family in the kitchen. Cooking your Thanksgiving meal together can help you and your family work out family differences, discuss hopes and dreams, and make memories to last a lifetime.
As you and your family make memories during Thanksgiving, consider trying this recipe for Raspberry Pretzel Salad. This delightful side dish is made with a buttery pretzel crust and layered with raspberries, jello, and a cream cheese topping.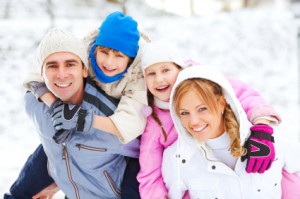 Christmas
Christmas dinner is yet another opportunity to make memories in the kitchen. Make even more memories by making breakfast together. Some families love to make and eat breakfast together then open gifts together as a family. Others love to rip the presents open before having breakfast. Either way, making breakfast together on Christmas morning is a fun-filled experience that is sure to bring the family even closer on that magical day.
This Christmas morning, give everyone in the family a job in the kitchen. One can work on making a delicious ham, cheese, and green onion omelet while another makes this delicious copycat recipe for Cinnabon cinnamon rolls.
New Years
From the snacks to the toast, New Years parties are a great time for families to come together. It's true that crackers and cheese are a classic dish, but why not start the party a little early in the kitchen by preparing some yummy homemade snacks.
You'll need some delicious dip for those crackers, and what's better than a homemade cheese ball? Try this mouthwatering recipe for Chocolate Chip Cheese Ball to serve with graham or animal crackers, or use this recipe for a more savory cheese ball to serve with buttery crackers.
You and your family have plenty of opportunities to get together over the holidays in the kitchen. Begin the tradition this Christmas, and continue it for every holiday throughout the year. Bring your family closer together and make memories along the way.